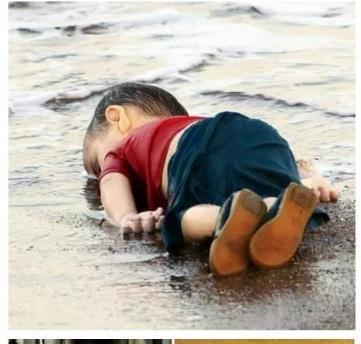 What are we?  Are we humans… ?  Or are we blood thirsty animals who fight each other, while some of us turn our backs and pretend it is not our concern and, therefore, somebody else's fault?  When I saw the images of migrants trying to escape wars for a better life; images of families with children; and most of them dying in land and sea; my heart broke into pieces.  People fleeing war, poverty, political repression, trudging over deserts and back roads, with only the clothes on their backs; packed into stadiums, boats, detention centers; arriving exhausted, or dead, on Mediterranean shores.
When I saw the picture of the toddler's lifeless body on the shore, my heart simply shattered.   The following videos illustrate it better than I can:
Toddler dies and his father mourns
And here we are in the United States arguing about whether to let immigrants cross our borders illegally or not.  Not exactly the same scenario, but similar goals for a better life.  Are some of them criminals who come to break the laws?  Yes they are.   But we have to be careful and not let the evil intentions of some people  dictate our overall attitude of the majority who are simply trying to find a better way of life.  It is easy to label and categorize a whole group of people.  It is easy to simply put a label on them to justify our comfortable lives.
We fail terribly to choose to perceive ourselves as human beings.  We have failed to treat each other as we would like to be treated.  Instead, we prefer to have a narrow mind set and focus only on that which is convenient for us.
As a human race, we have failed.  We have yet to learn to look at humanity as a whole, and start to look at each other as fellow human beings.  It feels as if this world has not done enough to make a significant change.  There is a lot more to learn.
Like the father of the dead toddler said "I don't want anything else from this world."