Author:
Noel
So what if people don't speak English while in the United States?  Would that make them less welcoming and not deserving to live in this country?   I have a big problem with people glorifying aspects of their culture, specifically the dominant language.   If you have seen my recent posts, you probably noticed how disturbed I feel with all the political propaganda that regards the United States as exceptional and unique.  I must say, United States is not exceptional (and the US is not the only "America" either).  I recognize that this statement may offend some readers.  But the simple fact that I am posting this post should indicate that I don't care if people choose to feel offended. Please click the following links regarding discussions about a candidate speaking a language other than English in the political arena:
http://www.cnn.com/2015/09/06/politics/sarah-palin-diversity-spanish/index.html
http://www.cnn.com/2015/09/02/politics/donald-trump-jeb-bush-spanish/
I assume that those who hold an egotistical and superior image about their "American" culture would probably agree with these discussions.  They probably agree with the statement that English is  "kind of a unifying aspect of the nation …. that is understood by all." The language that is understood by all is not a specific uttered speech, but the meaning behind it, such as love and compassion.   For example, should Bibles be written only in English for it to be effective in sending a message in the United States?  Is English the only language that would make every family functional?  Yes, it is the dominant language and it is a great asset when looking for a job… but it is not the only language.
What really unifies a nation is a common goal for peace, improved economy, equality, and affordable insurance. Not a language.
Why are some people so afraid of accepting the diversity that makes this country truly great?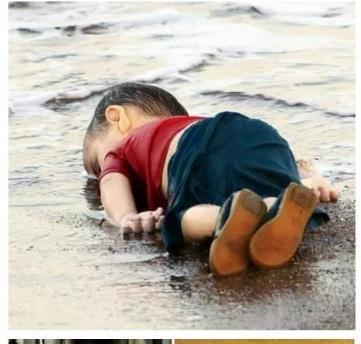 What are we?  Are we humans… ?  Or are we blood thirsty animals who fight each other, while some of us turn our backs and pretend it is not our concern and, therefore, somebody else's fault?  When I saw the images of migrants trying to escape wars for a better life; images of families with children; and most of them dying in land and sea; my heart broke into pieces.  People fleeing war, poverty, political repression, trudging over deserts and back roads, with only the clothes on their backs; packed into stadiums, boats, detention centers; arriving exhausted, or dead, on Mediterranean shores.
When I saw the picture of the toddler's lifeless body on the shore, my heart simply shattered.   The following videos illustrate it better than I can:
Toddler dies and his father mourns
And here we are in the United States arguing about whether to let immigrants cross our borders illegally or not.  Not exactly the same scenario, but similar goals for a better life.  Are some of them criminals who come to break the laws?  Yes they are.   But we have to be careful and not let the evil intentions of some people  dictate our overall attitude of the majority who are simply trying to find a better way of life.  It is easy to label and categorize a whole group of people.  It is easy to simply put a label on them to justify our comfortable lives.
We fail terribly to choose to perceive ourselves as human beings.  We have failed to treat each other as we would like to be treated.  Instead, we prefer to have a narrow mind set and focus only on that which is convenient for us.
As a human race, we have failed.  We have yet to learn to look at humanity as a whole, and start to look at each other as fellow human beings.  It feels as if this world has not done enough to make a significant change.  There is a lot more to learn.
Like the father of the dead toddler said "I don't want anything else from this world."
"Get out of my country.." says an ignorant man to a US citizen. What country? The "great" America…? You tell people who are different than you and who don't have a similar background to "get out of your country"? If America is about dividing people whose ancestors have been born in this country from people who were born in another country but who are residents or US citizens, and deport them back to their ancestors's country, then America is not great.  If America is about deporting those who 'cross the boundaries illegally" , then America is not great.
This is the problem with some who call themselves "Americans."  This is the problem with nationalism. Holding on to the self defeating idea  that countries have boundaries that must not be crossed.  It is the "us against them" mentality. The "legal" versus the "illegal" way of thinking.
This is the problem with dividing, compartmentalizing, and labeling people because of personal biases. A country (as well as ethnicity, race, patriotism) is a made up idea, like most ideas, which separates us as human beings.  Believing that "we have a country" and others must stay out of our country,  is a delusion that feeds our egos. There is truly no boundaries… no borders… no lines, except in our heads.